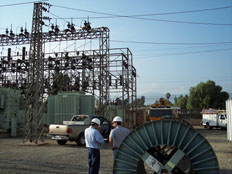 Terra Pacific was established to provide a full range of environmental services to the private and public sectors. By providing our clients with experience, performance, innovation, and integrity, we are securing a mutually successful relationship. Our multidisciplinary approach to solving environmental issues permits our engineers and scientists to work closely with our construction staff at the earliest phases of the project to facilitate collection of data in a practical, cost-effective manner.
Our group of associates has successfully characterized and restored contaminated sites for companies in the energy, petroleum, chemical, manufacturing, and other industries. We are a California A-licensed general engineering contractor certified for hazardous substance removal, management, and remedial construction. We also provide services to law firms, financial institutions, and governmental agencies.
Commitment to Safety

Safety is our number one priority. Terra Pacific is committed to conducting our operations safely and in a manner that is protective of people, property, communities, and the environment. We believe that safety is a critical element of successful project execution. We also believe that all injuries and occupational illnesses can be prevented. Our group continuously works to improve performance through management and employee participation and by providing up-to-date training programs and procedures.